Historical Attractions in Pittsburgh
Here are some of the top historical attractions in Pittsburgh, PA to visit.  These sites are representative of southwestern PA history and are generally open to the public on a regular basis…
Fallingwater
In 1937, construction was completed on Fallingwater, designed by architect Frank Lloyd Wright. The brilliant design fused nature and function like no other – complete with a stream running through the house. This much celebrated vacation home in the Laurel Highlands of Edgar and Liliane Kaufman is now open to the public and under direction of the Western Pennsylvania Conservancy. Plan to visit during all four seasons, as each season brings its own unique beauty.
http://www.fallingwater.org/
1491 Mill Run Rd, Mill Run, PA 15464
39.906248, -79.4679458
Nemacolin Castle
In Brownsville, situated high above the Monongahela River, sits this historic castle. Guided tours are offered along with many other events throughout the year. The Ghost Tours are particularly popular!
http://www.nemacolincastle.org
136 Front St, Brownsville, PA 15417
40.0225754, -79.8836546
Friendship Hill National Historic Site
Friendship Hill was the country estate of Albert Gallatin, well known especially for his service as Secretary of the Treasury for the Jefferson and Madison administration. His name is still prominent in areas across Fayette County. The 661-acre estate is now maintained and run by the National Park Service. An audio self-tour is available, as well as ranger tours. The grounds surrounding the homestead contain many nature trails that are open to the public. Check the website for additional activities and special events.
https://www.nps.gov/frhi/index.htm
223 New Geneva Road, Point Marion, PA 15474
39.786221, -79.917857
Washington Grist Mill
Reconstructed in 1999, the Grist Mill is a close replica to the original that was owned by George Washington.  Washington had the mill constructed in 1774-1776 on land that he owned as an investment.  Although he didn't run the day to day operations (he was busy being the first president), he frequented the site and inspected it.  The Perryopolis Historical Society offers tours of the Mill, as well as a Distillery, Bake Shop and other attractions on the site.
http://watsonschoice.com/GuideBook/DayTrips/Attractions/WashingtonGristMill.htm
411 Layton Rd, Perryopolis, PA 15473
40.085737, -79.744698
Old Economy Village
In 1824, the Harmony Society returned to Pennsylvania, this time settling in Beaver County along the Ohio River. There they founded "Oekonomie," now better known as Old Economy Village. It was here that the Society gained worldwide recognition for its religious devotion and economic prosperity. Explore the visitors center, stroll the grounds or take a guided tour of the remaining buildings in their original locations.
http://oldeconomyvillage.org/
270 16th Street, Ambridge, PA 15003
40.5985822, -80.2318193
Allegheny Portage Railroad Historic Site
The Allegheny Portage Railroad opened in 1834, providing the first direct rail route between Philadelphia and Pittsburgh. It has had many uses over the years, but today offers many special events and tours as a National Historic Site, and has many trails and places to explore such as the "Lemon House" and "Engine House #6". This is of particular interest to kids, teachers and anyone who loves nature and history!
https://www.nps.gov/alpo/index.htm
110 Federal Park Rd, Gallitzin Township, PA 16641
40.4692629, -78.5437936
United Flight 93 Memorial
On Tuesday morning, September 11, 2001, the U.S. came under attack when four commercial airliners were hijacked and used to strike targets on the ground. Nearly 3,000 people tragically lost their lives. Because of the actions of the 40 passengers and crew aboard one of the planes, Flight 93, the attack on the U.S. Capitol was thwarted. This quote is from the website, and says it all. The permanent memorial is now open, and the park is run by the National Park Service. However, the site being a memorial, it does not have typical recreational amenities that many other national parks offer.
https://www.nps.gov/flni/index.htm
6424 Lincoln Hwy, Stoystown, PA 15563
40.0817961, -78.8858101
Somerset Historical Center
The Somerset Historical Center presents and maintains  the area's rural history, from Somerset's first farmers to present day.  Onsite, there is a large visitor's center along with several historical buildings on the grounds which have been preserved and moved to this location.  There are educational programs and workshops on an ongoing basis, along with permanent and rotating exhibits.  The Visitors Center is also home to the Historical Society's Genealogical Research Library, which is also open to the public.  Take a step back in time and visit this 150-acre history museum!
http://www.somersethistoricalcenter.org/
10649 Somerset Pike, Somerset, PA 15501
40.0707599, -79.0801631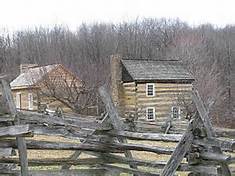 Meadowcroft Rockshelter and Village
In the quiet woods just outside of Avella, PA, lies the oldest known site of human habitation on the continent. A National Historic Landmark, the Meadowcroft Rockshelter is a 16,000 year old rock overhang that was used for shelter. Now under excavation, visitors can get a glimpse into the distant past and walk on the same ground as our ancient ancestors. Also on site is Meadowcroft Village, a museum and collection of building and structures from the 19th century. Take a step back in time and see what rural life was like 150 years ago in western Pennsylvania. There are special re-enactments and events yearlong. Also, don't miss the 16th century Indian village, and see what life was like 400 years ago.
http://www.heinzhistorycenter.org/meadowcroft/
401 Meadowcroft Rd, Avella, PA 15312
40.2864478, -80.4888096
Historic Hanna's Town
Known for being the first English court west of the Alleghenies, Hanna's Town was founded in 1793 and today serves as a reconstructed frontier village, open to the public and active with tours and educational opportunities.
http://www.westmorelandhistory.org/hannastown/index.cfm
362 Sand Hill Rd #1, Greensburg, PA 15601
40.2847805, -79.4368163
Pittsburgh History Center
Officially known as the Senator John Heinz Pittsburgh Regional History Center, the History Center is one of the coolest attractions in the area and operates as both a museum and research facility.  It is housed in a converted 160,000 sf warehouse.  The exhibits are locally based, well done and in depth; plan to spend a whole day here.  This is one of the most visited historical attractions in Pittsburgh, PA.
http://www.heinzhistorycenter.org/
1212 Smallman St., Pittsburgh, PA 15222
40.4465796, -79.9921893
Kentuck Knob
As a friend and business acquaintance of Edgar Kaufmann, I. N. Hagen visited Fallingwater often and hired Frank Lloyd Wright to design a similar home for him nearby.  Kentuck Knob is near Chalk Hill, on the other side of Ohiopyle from Fallingwater, and now offers private and public tours as well. The homestead features a unique Usonian design, with a single floor plan with no attic or basement.
http://kentuckknob.com/
723 Kentuck Rd, Dunbar, PA 15431
39.8720499, -79.5230588
Johnstown Inclined Plane
Built after the Johnstown flood of 1889, the Inclined Plane's original purpose was to connect downtown with the higher grounds of Westmont Borough in order to develop that area residentially. During Johnstown's two other floods in 1936 and 1977, the Incline became a lifesaver, helping people to escape downtown as well as to ship supplies into the valley. No trip to Johnstown is complete without a visit to the world-famous Inclined Plane.
http://www.inclinedplane.org/
711 Edgehill Dr, Johnstown, PA 15905
40.3254407, -78.928767
Monongahela Incline
Opening on May 8, 1870, the Mon Incline became the first passenger incline and has been in continual operation since.  It is the oldest and steepest incline in the United States.  Today, it conveniently connects the attractions at Station Square with the overlooks on Grandview Ave. in Mt. Washington and is therefore a prominent tourist attraction in of itself!
https://en.wikipedia.org/wiki/Monongahela_Incline
153 W Carson St, Pittsburgh, PA 15219
40.4327541, -80.0050532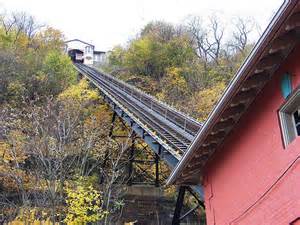 Duquesne Incline
The more westerly of the Mt. Washington inclines, the Duquesne Incline is itself a working museum with a long history.  It still uses the original 1877 cable cars to traverse up and down the hillside!  A trip on the incline is a must for visitors, and the Duquesne incline in particular is close to many restaurants on Mt. Washington.  And of course, there's always the great view of the Golden Triangle and surrounding areas from the overlooks!
http://www.duquesneincline.org/
1197 W Carson St., Pittsburgh, PA 15219
40.4398652, -80.017598
Jumonville Glen Historical Site
In these woods in 1754, a young George Washington fell into a skirmish with French troops that would ultimately lead to the French and Indian War. The peaceful glen, with its rock outcrops, stands today much as it did back then.  If you are a nature lover and history buff, you won't want to miss this one.
https://www.nps.gov/fone/jumglen.htm
732 Jumonville Rd, Hopwood, PA 15445
39.879282, -79.6457306
Windber Coal Heritage Center
The town of Windber was created by the Berwind-White Coal Mining Company for the exclusive purpose of providing its workers a nearby place to live. Remnants of the old town are still visible today. The Windber Coal Heritage Center tells the story of the miners and their families and educates through interactive, state-of-the-art exhibits, media presentations and other archives. The site contains a visitor's center, gift shop and features walking tours.
http://www.echf.windberpa.org/index.php?option=com_content&view=article&id=142&Itemid=353
501 15th St, Windber, PA 15963
40.2357505, -78.830123
Johnstown Flood National Memorial
This national memorial, run by the National Park Service, tells the story and remembers the victims of the tragic flood.
http://www.jaha.org/DiscoveryCenter/virtualtour.html
733 Lake Rd, South Fork, PA 15956
40.3508388, -78.7721896
Oliver Miller Homestead
Located in South Park, Miller Homestead is stone farmhouse from the Frontier Era. The site and Miller family has ties to the Whiskey Rebellion and Revolutionary War. Tours and Frontier events are frequently held at the Homestead.
http://www.beavercountypa.gov/ParksAnrRecreation/OldEconomy.aspx
2-98 Stone Manse Drive, Pittsburgh, PA 15236
40.3199752, -80.0026616
Century Inn
Opened as "Hill's Tavern" in 1794, Century Inn was one of the oldest taverns / inns on Historic Route 40, the National Road. It was still open until a fire destroyed the Inn on August 18th, 2015. The original stone structure is still standing. The Century Inn was a favorite for weddings, romantic dinners and entertainment, and will be again – reconstruction efforts are well underway, with a planned re-opening date soon!
http://www.centuryinn.com
2175 E National Pike, Scenery Hill, PA 15360
40.0863811, -80.0700235
Providence Meeting House (Quaker Church)
The Quaker Church (as it is locally known) is the third building to stand on this site, erected in 1893. It was constructed from the original stone of the previous meetinghouse. The Providence Meeting House was first chartered in 1789 to Mr. John Cope as a branch of the Redstone Monthly Meeting, which consisted of several Quaker families. It actively served as a church until around 1880. Only one acre of the original ground remains, and a gated cemetery surrounds the sole structure. The Quaker Church is the subject of much local folklore and haunted stories, and though it is very peaceful with gorgeous views by day, it is rather spooky by night!
http://www.perryopolis.com/providence.shtml
Quaker Church Rd, Perryopolis, PA 15473
40.0770484, -79.7803917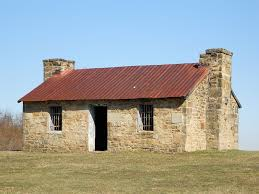 Senator Walter Lowrie Shaw House
Built in 1828 by US Senator Walter Lowrie, the house museum is open for tours on Friday afternoons. The house is located at 123 West Diamond Street, behind the Butler County Courthouse.
http://www.butlerhistory.com/shawhouse.htm
123 W Diamond St, Butler, PA 16001
40.858, -79.8963955
Historic Old Saint Lukes Church
Established in 1765, St. Lukes no longer has a congregation, but is still available for weddings and other special events. Tours are held on a regular basis, and a gift shop is even available!
http://www.oldsaintlukes.org/
330 Old Washington Pike, Carnegie, PA 15106
40.3845474, -80.0910388
Calhoun Schoolhouse
The Calhoun Schoolhouse is a one-room schoolhouse built in 1881, preserved for visitors and ongoing events.
http://calhounschoolhouse.com/
Route 1016, Belknap, PA 16215
40.9075786, -79.2970584
Carnegie Library of Pittsburgh
Situated near the University of Pittsburgh, the Carnegie Library still resides within it's original building. Recent renovations have preserved its character while allowing for state of the art library services. The library was founded in 1895 by Andrew Carnegie, along with 5 other local branches. Today, the system has grown to 16 branches with 2 more on the way. Be sure to visit the ""Pennsylvania Department"" – the wealth of local history and information is impressive.
http://www.clpgh.org/
4400 Forbes Ave, Pittsburgh, PA 15213
40.4434584, -79.9490109
Allegheny Cemetery
Exploring the beautiful grounds of this cemetery can provide a sense of peace and connect oneself to Pittsburgh's past.  Since 1844, many notable Pittsburghers have chosen Allegheny Cemetery for their final resting place, including Steven Foster, Joseph Horne and Thomas Mellon.  In all, 120,000 people are interred within 300 acres of land.  Being the 6th oldest rural cemetery in the nation, the history is rich and the tales are many of the people buried here.
http://www.alleghenycemetery.com
4734 Butler St, Pittsburgh, PA 15201
40.4750162, -79.9573738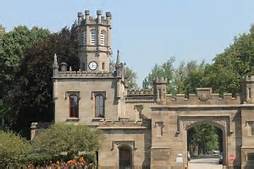 Cooper Cabin Pioneer Homestead
Built by the Cooper family circa 1810, the cabin was an original county homestead. It was enlarged after the Civil War and family descendants remained in the cabin until 1963.
http://www.visitbutlercounty.com/attractions/cooper-cabin-pioneer-homestead
199 Cooper Rd, Cabot, PA 16023
40.7660327, -79.7750762
Braddock's Grave
Major General Braddock was sent to North America in 1755 to attack French forts and weaken their land claims. On the way to Fort Duquesne, his force of 1400 men fell under surprise attack and was decimated. Wounded near what is now Braddock, PA, he was taken back to Fort Necessity where he died, and was buried under the access road (now US 40) so that he might rest in peace. In 1804, his remains were discovered, and in 1913 the current grave marker was erected.
http://www.fay-west.com/fayette/casparis/
National Pike, Farmington, PA 15437
39.8234571, -79.5927241