Haunted Houses in Pittsburgh
Your 2018 List of Haunted Houses in Pittsburgh & Western PA…
Here is the complete list of haunted houses in Pittsburgh, PA and nearby areas.  Updates for the 2018 Halloween season are now almost complete!  This list includes hayrides, trails and other Halloween attractions across western Pennsylvania. There are plenty in the Pittsburgh area to choose from, ranging from basic haunted houses with simple Halloween decorations to hayrides, to full-scale festivals with bonfires, bands and concessions.  Some of these attractions are OK for kids, but be sure to visit the haunted house's website to determine if they are kid friendly.
Each year, the haunted house attractions in the area seem to open earlier and earlier in the season.  Many are opening in September and stretching through the first few weeks of November.  As the attractions become more sophisticated and complex, they are extending the season.  September is a great time to head out since the weather is warmer, but if you prefer the chill of the October night air, there are even more options for you. 
Haunted PA History and Folklore by local author Thomas White
Now, onto this year's list of attractions!
Haunted Mini Golf at the Hopewell Windmill
Haunted outdoor mini golf is great Halloween fun for the entire family. Featuring glow in the dark golf balls that spin and glow while attempting to putt. The course is decorated for Halloween with haunted music playing. Additionally the course may be haunted with actors stalking the course to pop out and scare you! The course before dark is suited for younger kids.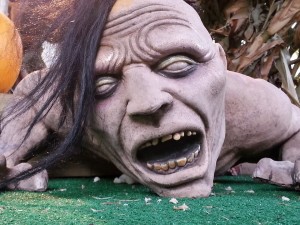 Beginning Saturday, September 22nd, 2018 at 7:00 pm.
Then open daily, 11:00 am – 10:00 pm weekends; 3:00 pm – 9:00 pm weekdays.  Cost is $8 for kids under twelve, $11 for adults.
http://hopewellwindmill.com/haunted-mini-golf/
2142 Brodhead Road, Aliquippa, PA 15001
40.575475, -80.254622
Allen's Haunted Hayride & Tavern of Terror
In it's 40th year, Allen's Haunted Hayrides has become a Halloween tradition for decades and is one of the oldest haunted houses in Pittsburgh.  On their website they claim to be the oldest hayride in the nation!   In 2015 they added the Tavern of Terror, a 3500 square-foot haunted walk thru of classic horror! To mark the occasion, the website was rebuilt and very well done as well. Both the hayride and Tavern of Terror will be back for 2018… Take a wagon ride down Route 666 to the Haunted Hayshed, and back again (if you are lucky). The barn itself was designated as being truly haunted in 2001 during a paranormal investigation. The hayride concept has been built upon to include unlimited carnival games and rides, along with bonfire pits that are available for rent. Beware – the hayride is intense, the monsters are in your face! For most people, the hayride lasts 30 minutes, for others, it lasts a lifetime!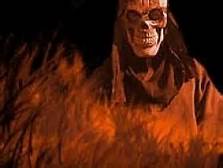 Opening night 9/28/18. Fridays & Saturdays in October, 6:00 pm – 11:00 pm, plus some Thursdays. Closes at 9:00 on Weeknights, 10:00 on Fridays. Open on September 28-29, October 5-6, 11-13, 18-20, 25-27.
http://www.allenshayrides.com/
2430 Pittsburgh Road, Smock, PA 15480
40.020835, -79.76323
Bump in the Night – Frick Park
Bump in the Night is a non-scary trail-walking event for the whole family, featuring storytelling, pumpkin carving and the sounds of nature. Costumes are optional! Reservations are requested.
Dates for 2018:   October 19-20, 26-27.  7:00 – 9:00 pm.
https://www.pittsburghparks.org/bump
2005 Beechwood Blvd., Pittsburgh, PA
40.4359686, -79.9090817
Bushy Run Battlefield – Haunted History Hayride
This event is back again for the 2018 Halloween season, one night only. Many times actual history is the scariest of all. Learn about frontier history and be frightened by scenes from Pontiac's War by re-enactors along the hayride / walk, and see why life in those days could be horrifying. Event includes a story teller, admission to the museum, gift shop and a concession stand. If you are interested in something different, this is a great choice!
October 20, 2018. 7:00 – 10:00pm. Call for reservations after October 3rd.
http://bushyrunbattlefield.com/news-events/
1253 Bushy Run Road, Jeannette, PA 15644
40.353488, -79.623559
Castle Blood: Halloween Adventure Tour
The MacCabre Family will return for their 27th year, 8th at their Monessen location! Note that the location changed a few years ago from Bealsville to Monessen. Castle Blood has a new theme and adventure tour each year (like Night of the Vampire, The Dark is Calling and Beware the Moon). Each year there are new attractions to the tour, which is more of an interactive experience and not as much of a blood and gore traditional haunted house.  For 2018, there is an all-new Experimentorium!  Known for it's grand special effects, Castle Blood is sure to please as Pennsylvania's Most Unusual Haunted Attraction. The MacCabre Family actually lived on site at the old location, and are known to stay in character year round – they even hosted their own late night TV show, The Midnight Monster Hop.  Read the entire legend of the Castle at their website. Castle Blood: A Gothic Tour… A Monstrous Adventure!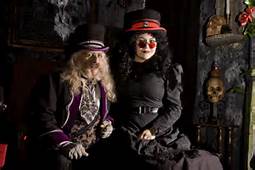 Friday through Sunday nights in October beginning 10/5/18 through 10/28/18. 7:00 – 11:00 pm (9:00pm Sundays). There may be a Family Matinee (no scare) on 10/21 and 10/28, 2:00pm.  Also look for dates throughout the year – Castle Blood has been known to have Christmas, Valentines Day and summer events!
http://www.castleblood.com/
100 Schoonmaker Avenue, Monessen, PA 15062
40.159618, -79.879095
Chad's Corn Maze
Chad's Corn Maze has been creating a new design in the cornfield of Green Mead Farm near Ligonier, PA since 2009.  This year's theme is Up Down, inspired by song by Morgan Wallen.  Last year's design was Dirty Laundry, inspired by the Carrie Underwood song.  Previous years' themes included Kick the Dust Up, Chainsaw, Round Here and Fly Over States, each designed by computer and GPS technology.  The 2018 maze looks to be as fun and confusing as ever, with a fisherman & sunset outline…
The maze is not haunted, so it is appropriate for kids of all ages as well as adults.
Fridays through Sundays in October. Opening Day is October 5, 2018… 6:00pm-11:00pm (5:00pm-9:00pm on Sundays)
http://www.chadscornmaze.com/index.html
Route 711, Ligonier, PA
40.224939, -79.244082
Cheeseman Fright Farm
This Halloween attraction includes a haunted hayride, corn maze and several haunted walk-through attractions, out in the middle of a 650-acre farm site. Each year there are new layouts, and the attraction is physically demanding! For children and "wimpy adults", Cheeseman Fright Farm also features daytime hayrides, hay jumps and a petting zoo as part of their "Pumpkin Festival" during daylight hours. Also, FastPass is available to beat the lines, as well as bonfires to keep warm. Kids under 12 must be with an adult.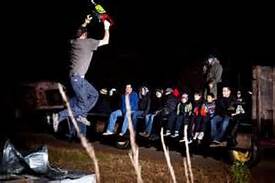 Friday through Sunday nights, from 9/14/18 thru 10/28/18. Note: Not open 9/16.  Dark until 10:00pm.
http://cheesemanfrightfarm.com/
147 Kennedy Road, Portersville, PA
40.93849, -80.1673
Demon House
Evil has a new home! The Demon House is based on a very developed legend involving the McCue Family Estate in Monongahela, Pennsylvania – click their site for the whole story. Basically, the site is crazy haunted, with paranormal activity occurring since the 1800s.  Each year there typically is a new theme. Themes from the past include Experience the Terror, Massacre on the Hill,  Dawn of Darkness and Doomsday Arrival. Campfires and shelters are available, as well as music, food and an outdoor movie theater. In previous years, the final weekend after Halloween has been a Lights Out tour, with only glow sticks to lead the way. However there has been no indication of this since 2016, so they may not be doing this anymore.  Demon House: Frightfully Entertaining – Embrace Your Fear!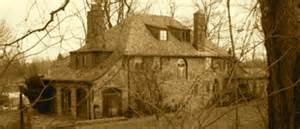 Weekends 9/2/18 – 11/3/18, 7:00 pm to Midnight (10:00 pm on Sundays).
http://www.demonhouse.com/
417 Coyle Curtain Road, Monongahela, PA 15063
40.1641889, -79.9222943
Eerie Acres Farm
Eerie Acres Farm is back for 2018, building on last year's reopening! Times and dates have been expanded, and things are sure to be better than ever. Eerie Acres Farm is a classic haunted barn and walk-through haunted house in Butler County.  Food, beverages and bonfires are available on the  Midway all season.  But, new this year, they are having Feast and Fright Nights on 10/13 & 10/27, featuring local food vendors.  They have a newly designed website and can be found on Facebook and Instagram as well.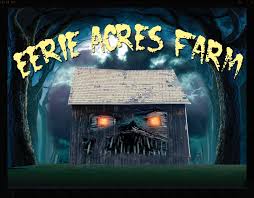 The attraction will be open more often than in years past. For 2018, opening day is 9/29/18, running through 10/27, Dusk – 11:00pm.  It is open on Fridays and Saturday nights.
http://www.eerieacresfarm.com
388 Eagle Mill Road, Butler, PA 16001
40.863228, -79.980558
Freddy's Haunts
Formerly known as Freddy's Haunted Trail a few years back, Freddy's Haunts has grown larger each year. It is now a 1/2-mile, all enclosed trail! There is something for kids of all ages. Be sure to try your hand at several spooky games before venturing down the haunted trail. The attraction is centered around the legend of Fred McCune, who lived on the property over a century ago, and endured tragedy in 1863. The entire legend was on the old website, but a new and improved one is coming soon (currently they just show the schedule).
New this year:  Lights Out dates on October 17th & Halloween, in addition to the normal schedule.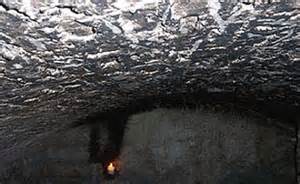 2018 Dates: 9/21/18 through 10/28/18, Friday, Saturday, Sundays in October, 7:00 – 11:00 pm.  Lights Out Tours:  10/17 & Halloween Night.
https://www.freddyshaunts.net/
192 McCune Road, Aliquippa PA 15001
40.564433, -80.321724
Fright Farm (Rich Farms)
Following up on Tales of Terror from the last couple of years, Fright Farm is back and ready for more this Halloween! When Fright Farm exploded onto the scene, it was one of the first to develop a carnival atmosphere around the event, with live bands and rides. It is now in its 29th year, and Fright Farm has a whole new theme each year. This year, the theme has not been announced; recent themes were Creatures, A Victorian Nightmare and Farmageddon, to name a few. There are now four attractions, Frightmare Mansion, the Hayride of No Return, Hallow Grounds and the all-new Fest-Evil Midway! Wednesdays are student nights with discount prices. Be sure to check out the schedule to see when and which bands are playing.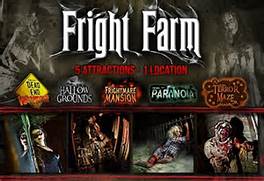 Begins 9/21/18 – Halloween, all days in October EXCEPT most Mon and Tues., 6:00pm until 9:45pm (11:30pm on Weekends). Last night on 10/31/18. Thursdays are charity nights; Sundays and 10/29-30 are Family Nights.
http://www.frightfarm.com
2043 Springhill Furnace Road, Smithfield, PA 15478
39.759086, -79.792118
Gateway Clipper Cruises: Halloween Fun
Looking for something different this year? Come aboard the Gateway Clipper Halloween Fun Cruise!  Interact with favorite characters from TV, movies and books… Have your kids wear their costumes for this afternoon sightseeing tour… complete with costume contests, friendly characters, prizes and treat bags for the the kids.  There will be a full snack bar available, plus face painting,  souvenirs, balloons and photos all at extra cost.
In 2015 there was The Pajama Party Murder, a Halloween Whodunit interactive dinner theater. There is no word yet on this one or the old Haunted Halloween Dinner, complete with comedy, illusions and juggling. Also note that the Boo Cruise has long been discontinued – this was an evening event geared for adults, and often featured Pittsburgh's own Donnie Iris. The last Boo Cruise was in 2008.
Halloween Fun Cruise: October 27-28, 2018: Boarding 1:00 pm, Sail 1:30 to 3:30 pm
https://www.gatewayclipper.com/activities/halloween-fun/
350 West Station Square Drive, Pittsburgh, PA 15219
40.4332991, -80.0042611
THE GLOW at Hartwood Acres Park
The Glow, a Jack O'Lantern Experience, is coming this year to Pittsburgh, locating in Hartwood Acres Park in Hampton Township, site of the former Christmas Light display several years ago.  The glow is an all-ages, non scary walking trail, lit by over 5,000 hand carved pumpkins!  The trail is 1/3 mile long, and is stroller friendly.  In fact, kids under 2 years of age are free.
The Glow also featured fall food and drink, with live pumpkin carving demonstrations.  It aims to be a way for the whole family to enjoy the Halloween season in the cool, night air of October.  Rain or shine…
Hartwood Acres Park, October 4 – 28, 7:30 to 10:00 pm.  Advanced tickets are requried!
https://theglowjackolantern.com/
200 Hartwood Acres, Pittsburgh, PA 15238
40.5694, -79.9089
HALLOWBOO – Idlewild Park
Head out to Idlewild for some daylight fun for the kids this fall! The annual Hallowboo will once again be featuring Trick or Treating in Story Book Forest, so bring the kids in costume! There will also be costumed characters and a haybale maze.  Most of the rest of the park will be open as well, with a ghoulish Halloween twist… In addition to most of the rides being open, there will be Halloween themed live entertainment, including Jack-O-Lantern Jive and the Monster Mash.
Dates and Times: Most Saturdays and Sundays beginning  September 29-30.  In October: Oct. 6-7, 13-14, 20-21 and 27-28. Gates and Storybrook Forest open at 11:30am; the rest of the attractions and rides open at 12:00pm. Closing time 6:00pm, except for the end-of-the-day Monster Mash.
https://www.idlewild.com/hallowboo
Idlewild & Soak Zone, Ligonier, PA 15658
40.2502031, -79.25778854
Haunted Cabin – Oakdale Boy Scout Troop 248
Not verified for 2018 yet…
After a break of a couple of years, in 2015 the historic Killbuck Lodge was restored and upgraded.  The Oakdale Boy Scout Haunted Cabin was back in 2016! The attraction covers almost an acre of haunted ground, filled with all kinds of critters, beasts and creatures that are waiting for you. Make your way through the maze across the covered bridge and choose your destiny: will you wind up in the Torture Chamber or the Spinning Vortex of Doom? Check out the Cabin itself to see What's Cooking, and be careful of The Cabin Witch along the way.  Group discounts and refreshments are available. ($5 per person or $3 for special groups.) Proceeds benefit Oakdale's Boy Scout Troop 248.
Probable 2018 Dates & Times: October 24-27, 2018. 7:00 pm to 9:00 pm.
248 Clinton Avenue, Oakdale, PA 15071
40.4007726, -80.1877806
Haunted Double Decker Bus Tours
Come listen as THE STORY TELLER weaves some tales of the macabre and wraps you up in a world of scary ghost stories, interwoven with unbelievable mysteries that remain unsolved to this day.  Board The Pittsburgh Tour Company's Double Decker Bus as it navigates through the darken streets of the city showing you real places and telling you real stories about the darker tales who are no longer with us… or are they?  Join us and decide for yourselves……If you DARE!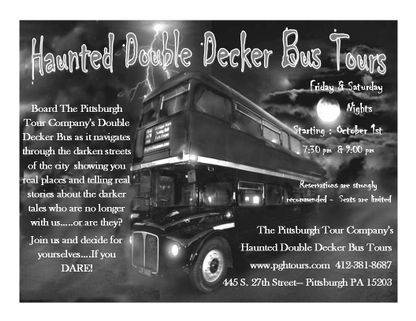 Fridays & Saturdays beginning September 28-29, 2018, then every weekend in October, 7:30 & 9:00pm. Each tour lasts one hour. Reservations are recommended…
http://www.pghtours.com/haunted-tours
445 27th Street, Pittsburgh, PA, United States
40.4278874, -79.9659201
Haunted Expedition – CLOSED
2016 was the last year for this attraction.  A new north hills attraction was to replace it, but there is no word on this as of yet.   Updates will be posted if info becomes available.  (8/25/18).
Description from 2016:
Haunted Expedition is the Pittsburgh area's newest and most realistic haunted attraction experience. After a successful debut season last year, Haunted Expedition is back again for 2016, better than ever. Located at Shenot Farm in Wexford, PA, this attraction takes you on an experience like no other. Board the hayride, and discover a town trapped back in time and tormented by demons!
Haunted Expedition includes two hayrides, three interactive shows, haunted trails through an orchard, and a haunted trail through a corn field, all for one price! Featuring top of the line special effects including fog machines, snow machines, and scent machines, Haunted Expedition is sure to be the most original haunted attraction you've ever been to! Are you ready?
Dates for 2016:  Fridays and Saturdays, in October, 7:30 – 10:30 pm (includes 9/30/16 – opening night!)  Thursdays in October and Halloween, 7:30 – 9:30 pm. Parking onsite is available for $5.00, or park for free at Marshall Elementary and ride the shuttle.
http://www.hauntedexpedition.com/
3754 Wexford Run Road, Wexford, PA 15090
40.626413, -80.079126
The Haunted Hayloft: Vengeance – CLOSED
The Haunted Hayloft has posted that due to unexpected circumstances it will not be opening for 2018.  They hope to be open for the 2019 season; stay tuned…  Here is the description from 2017:
In the past it billed itself as a frightening step back in time, now it's all about History, Horror, Hauntings and Howlings.  The Hayloft is used throughout the year for other activities, but in October it comes alive as a Halloween attraction, and has been a Somerset tradition for many years.  The Haunted Hayloft features 4 haunts, including Historic Haunt, Horrors of Hell (taking the place of Forest of Fright) and the Corn Maze of Carnage.  This year there is also zombie Paintball as well as an Escape Room Escapade.  Frights, fire, food & fun awaits…  It is located just a few miles from Huston's Haunted Hollow and Teen Quest Corn Maze – you can hit several haunted houses in Pittsburgh with one trip to Somerset County!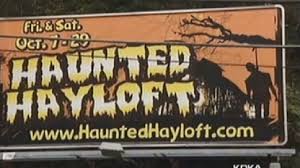 http://hauntedhayloft.com/
3487 Copper Kettle Highway, Rockwood, PA 15557
39.9584656, -79.2037027
Haunted Hills Estate
With 3 Halloween adventures and a spooky street, Haunted Hills Estate is ready for 2018!  In fact, they are celebrating 15 years in 2018 and have stepped it up to a new level.  They now are featuring all new themes and upgraded special effects!  The attraction originally combined the haunted experience with 8 challenges that groups would face and attempt along the trail. Now expanded, it still stands out as a unique immersive and interactive show, with you at the center of the action!  The walk-thru takes an entire hour to complete.
The three attractions for 2018 are: J.H. Finkelstein Funeral Home, The Magic Chamber of Horrors, and the Moonlight Massacre Challenge Trail.  This takes the place of the previous VooDoo Forest Challenge Trail.  Other previous attractions inclued Legends of Torment, The Doll Factory, Legends Hotel, Twisted Nightmare Escape Room, Slaughter House Escape and Dead Chamber.
Keep a close eye out, especially along the challenge trail, for rumors abound that the site itself is truly haunted, and actively haunted at that!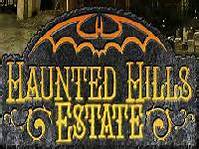 Weekends beginning 9/14/18 – 11/3/18. Also all Sundays in October. 7:00 – 11:00 pm (10:00 pm on Sundays). The last weekend (November 2-3) are special Lights Out nights from 7:00 – 11:00pm!
http://hauntedhillsestate.com/
236 Rolling Hills Estate Road, Uniontown, PA 15401
39.93249, -79.69889
Haunted Hills Hayride & The Valley of Darkness
The Haunted Hills Hayride is entering its 19th year of scaring and startling anyone who enters their haunted trails. There are two attractions: The Haunted Hayride and The Valley of Darkness Haunted Walking Trail. Both trails lead into the thick woods where you will encounter many creatures, monsters, structures and stunts within 23 stations.  Private campfires are also available for rent.  Haunted Hills Hayride and the Valley of Darkness is located 1/2 mile north of the intersection of Routes 30 and 48.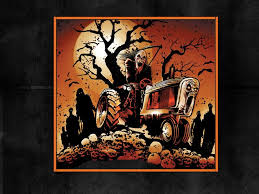 Fridays & Saturdays beginning 9/22/18 through 11/3/18, and select Sundays & weekdays. 7:00pm to 11:00 pm (10:00 pm on Sundays & Weekdays).
http://www.hauntedhillshayride.com/
500 Mosside Blvd., North Versailles, PA 15137
40.3764775, -79.7768871
Haunted Hillside
Haunted Hillside is a haunted attraction where an original story continues to evolve from year to year. This includes custom characters and sets that you won't find at other attractions. Meet the Farmer family, the gang of kilbillies that love having people for dinner. An occult has also moved into Haunted Hillside, causing mystical mayhem and keeping the killbillies on their toes.  Not to mention the scarecrows and sack boys that continue to terrorize folks that they come across.  In 2018, there is a new character to watch out for:  Allister Heck.  Get a feel for what it is like to be in a horror movie!  Visit their website to get the current version of the story.
Haunted Hillside is an all-outdoor attraction through wooded areas and corn fields and we are open rain or shine.  The terrain is all natural, so please dress appropriately (there could be mud).  Ticket prices are only $20 for general admission. Price of admission includes 5 attractions: Helltown, Sackboy Woods, The Salvage Yard, Forest of the Forgotten, and Scarecrow Alley.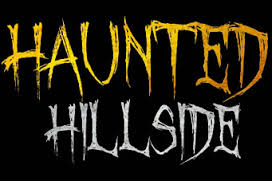 2018 Dates & Times: 9/8/18 – 10/27/18, Fridays and Saturdays, 7:00pm – Midnight.
http://hauntedhillside.com/
7217 Route 819, Mount Pleasant, PA 15666
40.179224, -79.5460363
Haunted Hollow
Haunted Hollow is a Somerset Halloween tradition (formerly known as Huston's Haunted Hollow), with 2018 marking 22 Years of Fear!  The attraction was originally made up of the Haunted House and Hayride of Horror and Evil Forest.
This year, there are significant changes in the Hollow.  Haunted Hollow is now being produced by Dan Hower (Haunted Attraction Association) and Alyssa Schipani (Design By Aly), two leaders in the Haunted Attraction Industry.
Back again are the Dead End Cornfield, HollowWood Haunted Hayride, Toxic Wasteland & Bruner Boarding House.  But new for 2018 is Milford Asylum, where tortured spirits of former patients still seek revenge.  Another new addition is Haunted Hollow Escape, a 15 minute escape room to get out of Willie's Shack before he returns!
There will also be food & drink, live bands, DJs and bonfires…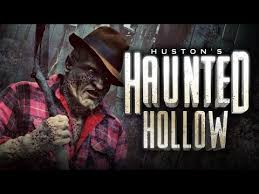 2018 Dates & Times:  Fridays and Saturdays in October (including 9/28-29), 6:30pm till 10:30 pm.  Opening Day: September 28th.
http://www.hauntedhollowpa.com/
126 Woodland Road, Rockwood, PA 15557
39.9604651, -79.1806773
Haunted School of Terror – CLOSED
According to a Facebook post, this attraction will not be open in 2018.  However, they are planning to return bigger and better next year.  Striplight Theatre is buying  the school property and will hopefully have some new ideas for 2019.  The website is also not working.  Here is the description from 2016, if you are interested:
Dead tired of the same old routine? Same old haunted houses killing you?  Head west across the state line to the Haunted School Of Terror every weekend in October.  Come check out our eternal agenda…  Take an elevator ride to the third floor and let class begin!  You may be deathly surprised who you see from school: an old mate, perhaps a best friend?  Boyfriend / Girlfriend?  Teacher?  Come and find out…  Built in 1939, this school has taught a lot of souls: see if you can earn your diploma!  Billed as one of the Ohio Valley's Largest Indoor Climate Controlled Mazes, the Haunted School of Terror is located in Weirton, WV, only a 30 minute drive from Robinson Township, one hour from Pittsburgh.  New for 2016 is The Barn, based on the legends of The Boogeyman, Hallowed Jack and The Candycorn Scarecrow.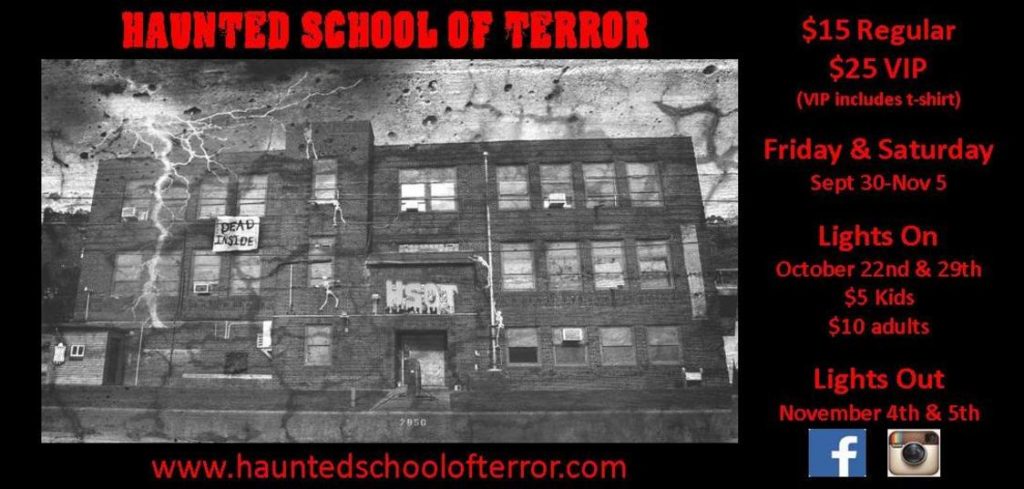 http://www.hauntedschoolofterror.com
2850 Weir Avenue, Weirton, WV 26062
40.411641, -80.584254
Haunted Studio
This event has not been verified for 2018.  2016 listing below: 
Terror awaits you at the Haunted Studio in the heart of Vandergrift PA!  The Haunted Studio will leave you crying and begging to leave!
$3 Entry fee or $10 for a 2 night unlimited entry pass. The $10 two day pass can be purchased at the door. ALL CHILDREN UNDER 12 MUST BE ACCOMPANIED BY AN ADULT OR PERSON 16 YEARS OF AGE OR OLDER!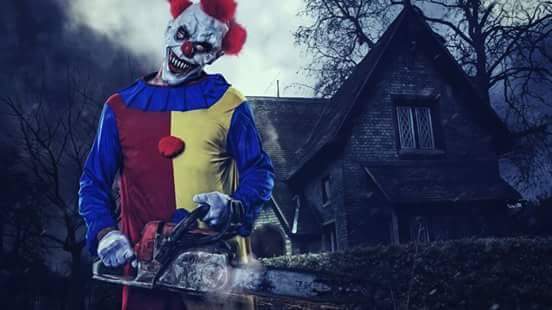 Two nights only: October 28th and October 31st, 2016
119 Grant Avenue Vandergrift, PA
40.6037214, -79.5638348
Hellatorium at Switchback Raceway – CLOSED
A new haunted house had been planned for the Switchback Raceway in Butler back in 2014, but things did not come together as planned. It is unclear if it will be ready in 2018, but the website is down.  It doesn't look promising.  It was planned to be the largest in Pennsylvania, situated inside a 45,000 sf building, the size of a football field.
http://www.hellatoriumhaunt.com/
2469 William Flynn Highway, Butler, PA 16009
40.967973, -79.9697007
Hobgoblin Hikes
Each year around Halloween, Westmoreland County rotates Hobgoblin Hikes throughout its county parks. Come for a FREE, guided tour through the haunted park woods. Recommended for those 8 and up. The hike is about 1/2 mile long, passing through mazes and cemeteries to various scare stations. Be ready for over 100 monsters of all types to greet you along the way!  The maze is not haunted, so it is appropriate for kids of all ages as well as adults.
2018 Dates:  Twin Lakes Park: Saturday, 10/20, 7:00 – 9:00 pm.  Cedar Creek Park: Saturday, 10/27, 7:00 – 9:00 pm.
http://co.westmoreland.pa.us/756/Hobgoblin-Hikes
Blacksmith Road, Mt. Pleasant, PA 15666
40.2158536, -79.4509736
Hundred Acres Manor
Back for it's 15th year, Hundred Acres Manor has been named "one of America's scariest haunted attractions" by the Travel Channel, and is one of the more well-known haunted houses in Pittsburgh.  It's location is the same in South Park as the former "Phantoms In the Park", at the old Sully's Pool on Hundred Acres Drive. This attraction expanded in 2014 to 6 attractions which are mostly back again for 2018, featuring Deadlift, The Host, Hallows Eve.  Breach 2.0 and Curse are all new this year, plus one more to be announced shortly.   Long-gone haunts from the past include Torture Tank, The Breach, Vodou, Damnation, Brine Slaughterhouse & FearScapes Factory.  There is also a "not so scary" wagon ride for the younger kids.  You can also interact and share photos on all the sites such as Facebook, YouTube and Twitter.
In 2015, they introduced the The Enigma Project escape rooms: Meltdown and Alchemy .  This year there are two multi-room themes to choose from:  Contagion & The Alchemist.  These are horror escape room games for you and your friends, with the goal of figuring out clues to escape in under 45 minutes.
If this is not enough, this year they are featuring Buried Alive, a burial simulator, surely not for the faint of heart….
Also in 2015 there was "Pittsburgh Tactical Zombie Laser Tag", a great adaption of the game in order to control the zombie population out at South Park, as well as a 7,500 square-foot maze.  These are also not mentioned on the website for 2018, so it is doubtful if these attractions are being offered.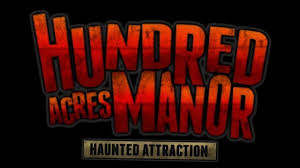 Weekends beginning 9/7/18 thru 11/11/18 including Halloween, plus most days beginning 10/3 except for some Mondays and Tuesdays, 7:00pm to 10:00pm (11:30pm Weekends). Bands may begin earlier.
http://www.hundredacresmanor.com/
1 Hundred Acre Drive, Bethel Park, PA 15102
40.33405185, -80.00964874
Kennywood Phantom Fright Nights
Are you ready for another terrifying year of "Kennywood at Halloween"?  In 2018, its 17th season, most of the favorites are back, with many updates and new surprises!  Be sure to take in Friday the 13th in 4D, Haunted Ark and check out the various new rooms and layouts. Biofear will also return, a warehouse of science experiments gone terribly wrong, along with Death Valley Ghost Town and Mortem Manor.  All in all there are 11 attractions in the Haunt Line Up, which do not include the summer rides that will also be open and decorated for Halloween.  Tickets are expensive, but well worth the money.  Also, be sure to take advantage of the Pre-Scare Dinner being offered, as well as the "RIP" Tours. Experience a whole new level of fear this October!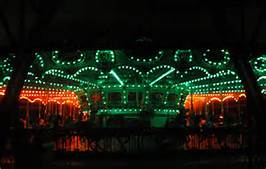 Fridays and Saturdays from 9/28/18 – 10/28/18, 6pm to Midnight. Also Sundays, 10/7 and 10/28 (open until 11:00pm).
https://www.kennywood.com/pfn
4800 Kennywood Blvd., West Mifflin, PA 15122
40.390315, -79.865458
Lonesome Valley Farms: Valley of Terror
This Halloween event, located next to the Westmoreland County Fairgrounds, features a haunted hayride and maze / trail, as well as the Slotter Farmhouse and Barn.  Concessions will be available as well as a harvest gift shop.  This year's Get Lost Corn Maze is called the Spider Corn Maze and is awesome as usual with a huge spider right in the middle.  The MS Awareness Maze and Cowboy Prayer Maze were very successful in 2015 and 2014.  Shared fire pits will be open to the public at no extra charge.  Also, a Saturday / Sunday Matinee Pumpkin Patch Playland will be held for the younger kids, 2:00 to 6:00 pm.  There are plenty of new surprises for the 2018 season.  In the past they have had special events and attractions such as a kids costume contest,  Zombie Night and Guys and Ghouls Night.  They have also featured the Pumpkin Catapult off and on through the years.  No mention of these for 2018, but still plenty to do.  Also, there are reports that the farm is TRULY haunted, and that some of the "effects" that visitors notice are not part of the attraction.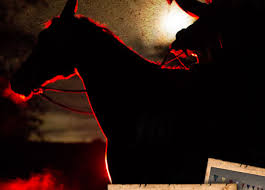 Fridays through Sundays in October, beginning 9/28/18 through 10/28/18. 7:00-10:00 pm (9:00 pm on Sundays).
http://www.lonesomevalleyfarms.com/
Blue Ribbon Lane, Greensburg, PA 15601
40.232016, -79.4912378
Mischief Manor (Victory Haunted House) – CLOSED
Mischief Manor / Victory Haunted House has closed for good, as of the end of the 2015 Halloween season.  Mischief Manor in Elizabeth, PA was located in a reincarnated haunted schoolhouse, in the same building as the former Victory Haunted House that closed in 2008 after a 30-year run.  It had been open from 2012 to 2015 as "Mischief Manor".  Up until its demise, it was the longest-running haunted attraction in southwestern Pennsylvania.
http://www.mischief-manor.comuf.com/
2805 Douglas Hollow Road, Elizabeth Township, Pa 15037
40.2566482, -79.8184684
Monongahela Candlelight Ghost Walk Tours
The ghost walk is back for its 21st season in 2018, always with new wrinkles, haunted stories of the Mon Valley and additional events!  Costumed guides and storytellers lead participants on a candlelight walk through the streets of Monongahela, discussing supposedly true paranormal accounts of the local area. Four sites were visited in years past.  You can also sign up for a VIP tour on Saturdays, which includes a full tour of one of the haunted houses, led by the owner.  Last year it took place at the old Blythe house at the famed 808 Main Street address; this year will be at different historic home, not yet announced.  The walk concludes with refreshments and a chance to discuss the tour.  In years past they have hosted a Masquerade Ball, a History and Myths program, and a Spell-a-Bration, a must for magic fans! Call to inquire about these events.  All proceeds benefit the Historical Society's Keep the Museum Open campaign.  Tours are not recommended for children under 12.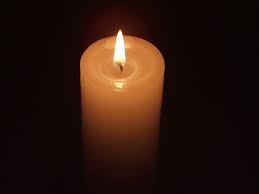 October 12-13, 20, 2018. Meet at Chess Park, 7:30pm. Reservations required, call 724-258-6432.
http://monongahelahistoricalsociety.com/
Chess Park, Monongahela, PA
40.2047513, -79.9313377
Monster Mile Family Walk at Alameda Park
Formerly known as Tricks or Treats and the Haunted Bonfire, this popular family event is back for 2018, but this time during the day.  Wear your costume and make your way through 4 stations of crafts and candy.  The event is located in Alameda Park, 2 miles west of the City of Butler.  Wagons and strollers are encouraged…  Register early for cost savings!  Call for details; pre-registration is preferred.
October 20, 2018. 11:00am to 1:00pm at the Masonic Shelter  
http://www.co.butler.pa.us/
184 Alameda Park Road, Butler, PA 16001
40.876105, -79.929832
Northern Nightmares
Northern Nightmares is a unique group of Halloween events in and around Zelienople and Harmony, PA.  It is based out of The Strand Theater in the heart of Zelienople, and has included chiller and horror movies at the theater.  The main event has been the 45-minute Nightmare Tour of the local area, with guides providing "real" ghost stories and accounts of the local area as you tour the towns by bus.  There are also spooky and Halloween-themed shows and movies at the fabulous Strand Theater all October long.
The tour is appropriate for the entire family.  This event has been around for several years, but took a break for a while. It returned annually in 2015, and will be back for 2018.
2018 Dates & Times:  October 19-20, 26-27. Tours run @ 6:30, 7:30, 8:30 & 9:30 pm.
http://www.northernnightmares.com
119 North Main Street, Zelienople, PA
40.796381, -80.137346
Scare at the Fair
An extension to the West Alexander Fair, the Halloween "Scare at the Fair" also takes place at the Fairgrounds and features an 8,500 square foot, walk-through haunted house.  Already in it's 6th year in 2018, the "Scare" has become a local favorite with such scares as Zombie Madness, The Forest, Clowns-Clowns-Clowns and the haunted maze.  To mark their 6th year, they have expanded once again.  Many of the old haunts will be back, plus three new attractions:  Alien Death, The Hillbilly Zone and Claustrophobia.
Be on the lookout for the haunted version of the fair queen as well…  In 2016 they introduced "The Escape Room", in which you have 5 minutes to solve puzzles to escape, all with various distractions.  Due to popular demand, they have added a second room!  If you escape in time, you will be rewarded with admission with no wait, on any night!  This is a fundraising event sponsored by the West Alexander Fire Department.
October 5-6, 12-13, 19-20 and 26-27, 7:00pm – 11:00pm
http://www.wascarefair.com/index.html
116 Route 40, West Alexander, PA 15376
40.1089834, -80.5100829
Scarehouse
ScareHouse is Pittsburgh's Ultimate Haunted House! ScareHouse has been named as one of America's best Haunted Houses by Travel Channel, USA Today, Good Morning America, and writer/director Guillermo del Toro. Buy tickets from www.scarehouse.com for lowest prices and shortest wait. Admission includes three terrifying haunts for one price.   New for 2018: Pittsburgh Zombies:  Re-Animated!   Nocturnia 3-D is a twisted carnival of clowns and creatures is longer, weirder, and packed with ALL NEW 3-D effects for 2018; and "Infernal" unleashes a legion of demons from the deepest depths of Hell.  ScareHouse's notorious and world famous immersive attraction, "The Basement", also returns this year with more extreme and outrageous encounters than ever. Additional ticket purchase is required and all guests must be 18 or older and must sign waiver before entering The Basement.  Come check out one the most intense haunted houses in Pittsburgh!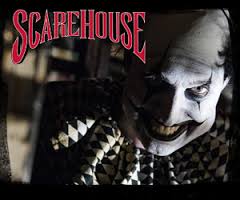 ScareHouse is open on select dates from 9/14/18 through early 11/3/18.  "Behind the Scenes" tickets are available for 9/30/18, and the annual "Turn Out the Lights" night will be held on 11/3/18.  Tickets and more information available from www.scarehouse.com.
http://www.scarehouse.com
118 Locust Street, Etna, PA 15223
40.499285, -79.944321
Scary Harry's Haunted Trail
Scary Harry's is back for its 9th year – a 1/3-mile trail through haunted woods – your worst nightmares will come true in the deep, dark forest! Weave your way through the woods while trying to avoid Scary Harry and his bandits.  This is a growing event, and they are back for 2018 at 1703 Pierce Road since they outgrew the former Long Road location back in 2014.  They are still building it up and each year it gets bigger – this year with an expanded schedule once again.  Hundreds have entered, but not all have returned.  Will you make it back?

Fridays and Saturdays in October, beginning September 29, 2018, 7:00 pm – Midnight. 11/1-2 are open as "Special Pitch Black Full Contact" events!  Also 10/21 & 10/28 (8:00 – 10:00 pm on Sundays).  Check the website for additional special events and dates.
http://www.scaryharrys.com/
1703 Pierce Road, Homer City, PA 15748
40.5377813, -79.2262068
Scream Factory
There is a new haunted house in town, in New Kensington to be exact!  The AK Valley Research Park is sponsoring this walk-through haunted house, through Halloween night…  According to the website, the Scream Factory is where your worst nightmares come to life… will you make it out with your sanity?
The setting is also noteworthy in that the creators are attempting to help out and breathe life into the community and surrounding areas, for the good of the town.  Help them out by visiting their all-new attraction this October!

2018 Dates & Times:  Open daily (except Mondays) 9/28/18 – Halloween.  6:30 – 11:00pm
http://akvalleyscreamfactory.com/
600 Freeport Road, New Kensington, PA 15068
40.571438,-79.754562
Spooky Stories at the Old Stone House
Halloween meets History! Come to the Old Stone House for storytelling, historical reenactments and a guided tour.  The Old Stone House is a nearly 200 year old restored inn near Slippery Rock that hosts special events throughout the year.  All proceeds support the Old Stone House and its community programs.  This year the event will feature storytelling, historical reenactments and a side show, plus numerous activities available for the kids.  Admission is $8 (children 8 & under for $5).  Please get your tickets in advance through their website.
In 2014 the Center for Paranormal Study and Investigation teamed up with the folks at the Old Stone House for real ghost hunting…  Maybe their findings will be the subject of one of the spooky stories…
2018 Date (One Night Only):  Saturday, October 13.  Two sessions:  6:00-6:45 pm or 7:30-8:15 pm
http://oldstonehousepa.org/events_items/spooky-stories-2018/
2865 William Flynn Highway, Slippery Rock, PA 16057
41.0107952, -80.0021507
Terror Town – CLOSED
The website had been partially updated in 2017. But it was last open in 2015, so it looks like this attraction has been ghosted…
Listing from 2015:
Terror Town is returning for its 5th year, located in the 30,000 sf basement of a Strip District warehouse.  "Enter the abyss beneath 17th Street" at your own risk and prepare for the "final act".  There is an indoor waiting area, perfect for rainy and cold weather.  Come for "Friday the 13th Night" on November 13th for one final blast!  The site has been identified as having a "strong paranormal presence" by the PA Department of Paranormal Investigation.  Come check out the new spine tingling twists and gruesome props for 2015!
Opening Night on 9/26/15, then Fridays-Saturdays in October, plus 10/25, 10/29, 11/1 & 11/13/15. 7:00pm – Midnight (10:00pm week nights).
http://www.terrortownpgh.com
1700 Smallman Street, Pittsburgh, PA 15222
40.4503391, -79.9867761
Tim's Secret Treasures Fright Fest
Not verified for 2018 yet…
Antiques are not the only relics from the past at Tim's Secret Treasures in Charleroi.  It is that time of year again!  Find out more about the spirits that dwell within at Fright Fest on October 21, 2017!  The owners are once again bringing in paranormal teams and 4 renowned psychics, spiritual mediums and advisers, and will be available for readings for the paying customers.  Beginning at 11:00 pm a live paranormal investigation will be taking place.  All the proceeds from the investigation plus a portion of those from the psychics will be donated to various charitable organizations.  Not for the faint of heart!  Call now to reserve your spot.
October 21, 2017. 6:00pm – 11:00pm (Paranormal Investigation 11:00 pm – 2:00am).
https://allevents.in/charleroi/tims-secret-treasures-fright-fest-2017/80002399060809
220 McKean Avenue, Charleroi, PA
40.1360466, -79.8948143
Trail of Terror (Carnegie Park)

 
Pitcher Skate Park is hosting the Trail of Terror again in 2018, an annual tradition since 2012.  This year the trail has been completely redesigned! Along with the haunted trail, there is a pumpkin patch and food available.  Warm up around the haunted fireplace!  The trail gets bigger and better each year, and there are new attractions for 2018.   Kids are welcome, and by request can be walked through with flashlights to meet the actors, for a fun and not-so-scary experience.  The website is down for now, but look them up on Facebook for more info…
October 19-20 and 26-27, 2018. Two weekends, 5:00 pm – 10:00 pm
http://www.pghtrailofterror.com/
Pitcher Park, Carnegie Park, Carnegie, PA
40.4034077, -80.0737474
Tri County ATV Haunted Rides: Nightmare Before Christmas
If you are an ATV rider, this haunted attraction is just for you.  The haunted ride is just that – you must have an ATV (and helmet) to participate, and features a 6 to 10 mile guided tour through haunted woods.  The ground include a carnival as well for all to enjoy, including games, prizes, treat bags for the kids, movies, popcorn and more!  The $20 ticket includes the ride, a drive-in movie, meal deal and treats for kids under 15.
October 13, 20 and 27, 2018. Ride starts at dusk (gates open at 5:00 pm) Sponsored by Tri-County ATV Recreation and Haunted Rescue Riders.
http://www.hauntedride.com/
632 Tower Hill Road, Northern Cambria, PA 15714
40.6261207, -78.8959315
The West Deer Nightmare – CLOSED for 2018
Unfortunately, the West Deer Nightmare will be closed for the 2018 season.  Check back next year for updates on its future status…
The West Deer Nightmare was a highly intense, terrifying Haunted House that depicted the history of serial killer Noah Hobbs and the 1952 West Deer Nightmare Massacre. Years after Hobbs was shot and killed it was discovered that he had a son named… Noah.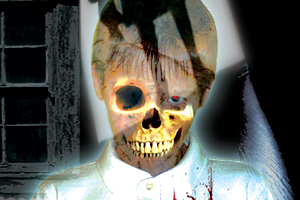 http://www.westdeernightmare.com/
Bairdford Park, Gibsonia, PA 15044
40.630377, -79.8751836
Willow Farm Terror Trail
Come out for a night of scary fun at Willow Farm Campground.  Our haunted woods have several staged attractions as well as roaming thrill characters along the way.  This is a in-woods walking attraction and appropriate foot wear is required.  Now open to the public.  $5 per person.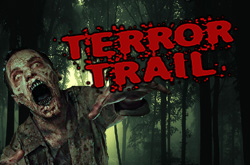 2018 Date / Time:  October 6th & 13th  – 7:30 to 10:00 pm.
http://willowfarmcampgroundpa.com/
955 Steele Road Marion Center, PA 15759
40.7960726, -79.0875022
Zombies of the Corn
Here is an attraction for those looking for something a bit different than the usual haunted houses in Pittsburgh –  how would you like to open fire on zombies (with a paintball gun, of course)  Hop aboard the Zombie shooting mobile and go to town.  After the success of the previous few years, the zombie compound is back.  In addition to the Zombie shoot, there is a corn maze, wagon ride and continuous ghost story telling around the campfire, plus food & fun!  Kids are welcome, even if too small to participate in the Zombie Shoot.  Sponsored by Three Rivers Paintball and Airsoft.  Online reservations are suggested!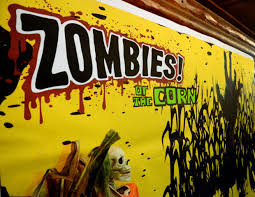 Weekends starting on 9/28/18 and through October, including Sundays on 10/21/18 and 10/28/18, 7:00 pm – Midnight.  Last ride leaves at 11:15pm
http://zombiesofthecorn.com/
282 Rochester Road, Freedom, PA 15042
40.702751, -80.169481
ZooBoo – Halloween at the Pittsburgh Zoo
A tradition for younger children, the Zoo Boo is back this year, again for two weekends during daylight hours (10:00 am – 3:00 pm).  Dress up your kids in their costumes, go trick-or-treating at the roughly 15 to 20 treat stops and enjoy the various attractions the Zoo has to offer.  Bring your own treat bag…  This year there will be a hay maze, 2 haunt spots for the little ones (not very scary) and a costume parade to the Pumpkin Patch Pavilion stage, where there will be a costume contest.
2018 Dates: October 20-21, 27-28. 10:00 am – 3:00 pm
http://www.pittsburghzoo.org/Event-ZooBoo-29
One Wild Place, Pittsburgh, PA 15206
40.4830323, -79.9197598