Providence Meeting House – Perryopolis Quaker Church
This building stands as a memorial to the early Quaker pioneers of the "Little Redstone" Settlement. The Quakers of the "Little Redstone" group were religiously conservative and remained so until they were "laid down" in 1871. It is interesting to know that the beliefs of this group are still practiced today.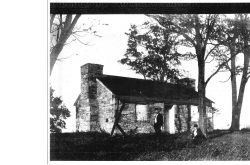 Providence had its beginnings in 1785 when Westland Monthly Meeting, in Washington County, PA appointed a committee to visit Friends who settled in the area. John Cope, Ebenezer Walker, Jonathan Hewitt, and Nathan Brown were just some of the Friends living at "Little Redstone" during this time. James Purviance, also a Quaker, moved from Virginia to the area in the spring of 1786. He obtained a warrant for a 274 acre tract of land on September 28th of the same year. Worship Meetings were conducted in his home until the first meeting house, a log structure, was built in 1789. It was at this time that Purviance sold 15 and ¼ acres of his land to the trustees of "Little Redstone" to be used as a place of worship. The Society renamed "Little Redstone", Providence, at this time. In 1793, they demolished the log structure and rebuilt a new one out of stone. Worship continued at this site until 1871, when it was "laid down" and then transferred to Sewickley. On April 22, 1872 the property trustees sold back 14 of the 15 and ¼ acres that they owned to Samuel Strickler, a successive owner of the original Purviance property. The meeting house and approximate one acre cemetery was reserved forever as a burial ground.
Overtime the unused meeting house began to collapse. In 1895, members of the Cope family used materials from the collapsed structure to build a smaller replica of the stone meeting house. Its intended use was to serve as a memorial and chapel for family members who visit the adjoining cemetery.
The hilltop location is quite beautiful and renders bird's eye view of the surrounding countryside. The property has been managed by a local descendant for many years. The Providence Quaker Settlement of which the Meetinghouse is located boarders the lands of General (Later President) George Washington. As early as 1769-1770 George Washington owned over 1600 acres of land upon which the town of Perryopolis lies. Colonel Crawford's part in the purchase of t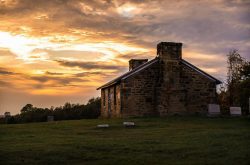 hese lands is recorded in Washington's diary dated October 15, 1770. The diary also tells of Washington's trip to this vicinity at a later date. In 1774, the construction of Washington's Mill was begun under the direction of Gilbert Simpson, but due to trouble with the Indians and the outbreak of the Revolutionary War, the Mill was not completed until the fall of 1776. It was not until the fall of 1779, that Washington leased the Mill along with 150 acres of land to Colonel Israel Shreve, a hero of the Revolutionary War, for a term of five years. Washington died in 1799, never having conveyed the tracts under the Articles of Agreement to Colonel Shreve, who also died the same year. In 1803 the five tracts of property were conveyed to the heirs of Israel Shreve. The greater part of this historic property passed from the heirs of Israel Shreve to Issac Meason and then to John Rice. The Mill itself passed to Powell Hough, to John Strickler (Brother of Samual Strickler) and Jacob Strawn.
Over the years, misinformed individuals have engaged in unauthorized activities, such as geocaching, ghost hunting, criminal mischief and illegal drug use. These activities have caused significant damage to the stone structure, fence, and tombstones. An effort has been made to secure the skills of local artisans, masons, and carpenters, to help repair the damage that has been done to this property. Security measures have also been taken by the local community through a diligent community watch.
There is an ongoing effort to educate the public that this is a cemetery that is still in use by the descendants of the Quaker families who settled here. We greatly appreciate and welcome any volunteers who are willing to help in the ongoing effort to preserve this historic treasure. If you can help raise funds, raise public awareness, implement restoration projects, help with security, participate in a community watch, aid with gardening, landscaping, or litter control, research historical data, manage a website, or if you wish to make a donation to help in this cause please contact us through our face book page.
Donations can be made by check or money order to: Providence Meeting House and Cemetery Inc.
Mail to:
Providence Meeting House and Cemetery Inc.
We are a 501c3 Nonprofit group, unaffiliated with any other Historical Societies. Our Board of Directors receive no compensation for their services, and are generous contributors themselves. Our group's goal is dedicated to the protection and preservation of this site.  
Visit our Facebook page
This content was originally published here and has been re-published with permission.