Father Rapp's Seat (Harmony, PA)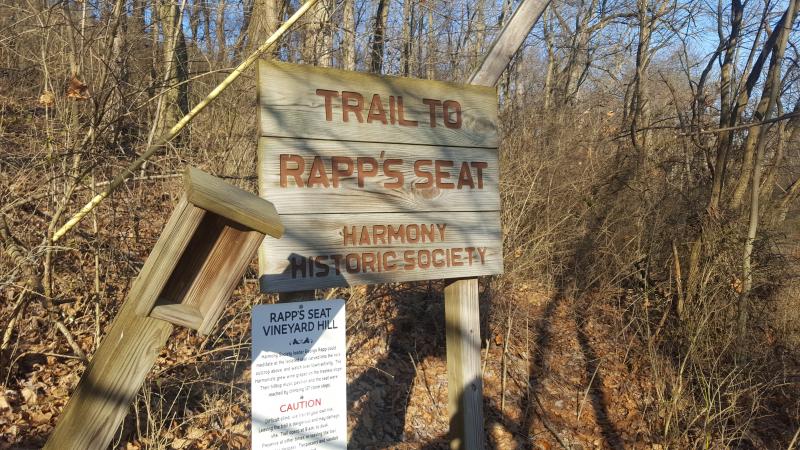 A unique point of interest is situated on the edge of town in Harmony, PA: a stone-carved "chair" on a steep hillside known as Father Rapp's Seat.  The seat was created by George Rapp, founder and leader of the Harmony Society, a religious sect that built the town nearby.  Father Rapp would climb the hill to his seat to meditate and pray as he looked over the town below.  Originally, there were 137 stone steps up the hill that reached the seat, as well as a music pavilion for the society.  The slope, known as "Vineyard Hill", had no trees covering it at the time and was used for growing wine grapes.  The trail and seat are now owned and maintained by Historic Harmony, Inc.
The trail is open from 9 am until dusk, and is accessible via a flight of wooden steps.  The steps were constructed in 1999 as an Eagle Scout project by Christopher Van Arsdale.  The hillside is very steep, and reaching the chair without these steps would be extremely difficult.  However, it was possible, as friends and I first found the seat in 1994…  Doing so was quite the adventure!  A wooden handrail is also provided.
At the top of the trail, it levels off and reaches the top of the rock outcrop where the seat is located.  In essence, visitors typically stand on the rock "roof" over the seat while admiring the view.  To reach the seat itself, one must creep around the front of the rock outcropping.  This is fairly dangerous and not recommended.  In fact, it may be prohibited, since it is posted as trespassing to leave the trail.  It appears that erosion on the hill may have altered the access to the actual seat.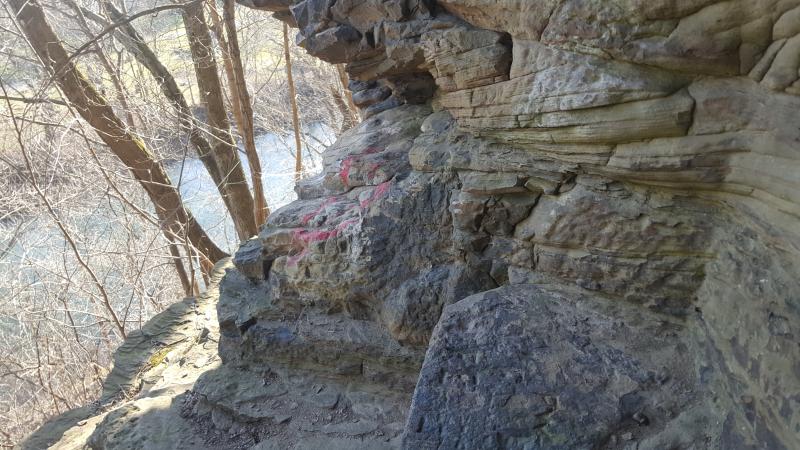 The view from the top of the hill is most impressive, but tree growth has blocked much of it, so winter may be best time to visit.  However, visitors can still get a sense of what George Rapp must have seen, peering across the Connoquenessing Creek and flat farm land, with the town in the distance.  Today, more buildings have been constructed around the town.  Interstate 79 can be seen in the background.
Be sure to tour the historic town of Harmony after climbing to Father Rapp's Seat.  Several shops, eateries and attractions line the main streets of town, many housed in the original buildings built by the Harmonists themselves.  Of particular interest is the Harmony Museum and Harmony Inn in the town, and the Harmony Mennonite Meetinghouse and Harmony Society Cemetery on the outskirts.  The trail to Father Rapp's Seat is located on Evergreen Mill Road, east of Harmony, off of Mercer Road.  Parking is tight, basically limited to the side of the road, and there are no shoulders.  A better parking option might be to park in Harmony and walk across the bridge to the site.